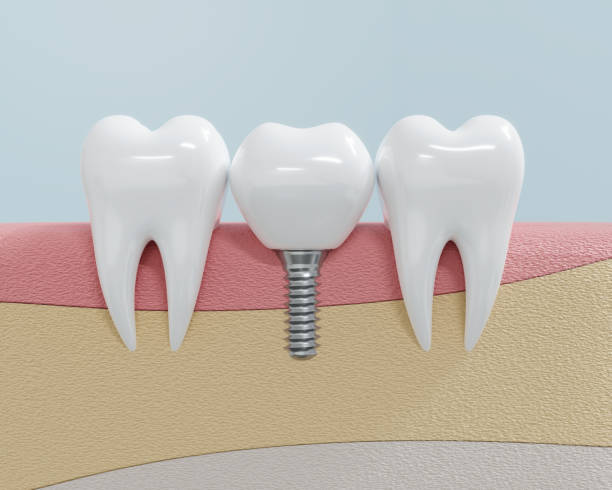 Dental Implants usually take a long time to place as you will need to come for multiple appointments. such as placement, monitoring and crowning.
An implant is essentially a titanium screw that is placed into the jaw bone and allowed to heal into position, following which a crown can then be placed on the implant and it can be used as a tooth.
Implants are not for everyone. You may not be suitable for implants if you have a complex medical history such as diabetes, are a smoker, or have lighter bone density. If you suffer from gum disease there is a good chance the implant may fail, because of that the dentist may turn you down if you exhibit signs of gum disease.
| Implant | Price |
| --- | --- |
| Implant and Crown | from £3300 |
| Bone Grafting | from £500 |
In the first few appointments the dentist will take x-rays and measurements. These make sure there is enough bone to support the implant. There will be some moulds recorded. 
At a following appointment, the dentist will numb you up and fix the implant screw to the area of the missing tooth. You may need some stitches after this appointment.
In most cases the dentist will  ask to see you in three months after the appointment. This three month period is important because it allows for the bone to heal into the threads of the screw thus giving it a good fix and it will mean that the implant will not be too loose.

Once you come back after three months the dentist will assess the implant. If it appears stable then the dentist will proceed in making a prosthesis. This can be either;

1) a crown, (a cap placed on top of the implant to replace one tooth)
2) a bridge (multiple joined caps placed on top of many implants to replace a span of missing teeth)
3) a denture (A denture that will clip into an implant to hold in place, most often used to replace teeth if there are many missing)
Dental Implants are one of many definitive options for when it comes to replacing missing teeth.
There are many other options for missing teeth that may be worth considering:
Sticky / Resin Bonded Bridge : This is when a bridge is glued onto the tooth next to it. Good for areas of a single missing tooth, that do not undergo too much load on biting. (For example front teeth) The risk of these is they may de-bond, but the significant benefit is they are non invasive and are relatively cheap.
Conventional Bridge: This is when a tooth gets crowned and a bridge comes off where the crowned tooth is. This can be done in between two teeth, or just as a cantilever off of one tooth. The benefit of this is that it will be cheaper than an implant. The disadvantage is that the tooth must be prepared to accommodate this bridge and it could pose problems to the tooth of it gets damaged.
Denture: This is a plastic false tooth that you can take out and put back into the mouth. Often the denture is seen as the best option for people with many teeth missing, or people who have active gum disease/ tooth decay. As they are relatively inexpensive and they can be removed to help maintain and clean the teeth around them.