Sometimes if you are missing teeth and there's a gap, the dentist may discuss the option of a bridge with you.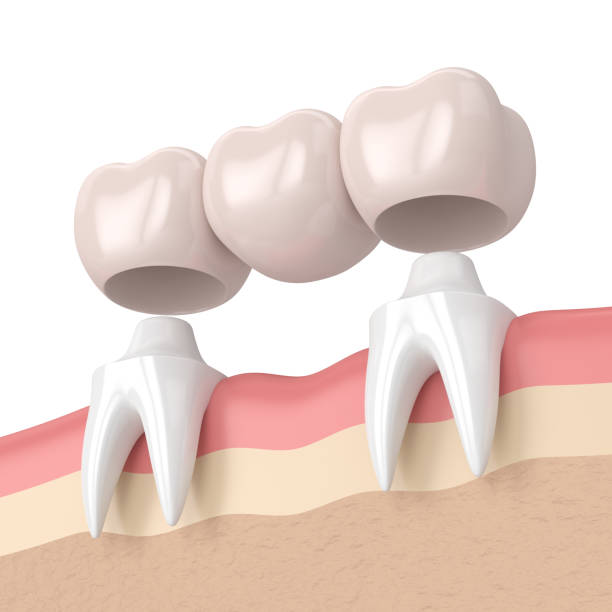 The conventional bridge is often used when the teeth on either side would also benefit from a crown. 
A conventional cantilever bridge
Is when just one tooth is needed to be prepared into the crown, usually a back tooth that is larger as this can offer more support for the replacement tooth in the bridge.
The benefits of a conventional bridge :
 It is a fixed replacement tooth that you don't need to keep taking out. It can prove relatively stable.
Cheaper than an implant or other fixed option.
Can provide strength to the surrounding teeth included in the bridge if they are in a position to benefit from crowning.
The disadvantage of a conventional bridge:
The replacement tooth is bonded onto the tooth or teeth next to it, and should anything bad happen to either tooth , the fates of the teeth on either side are also tied to it.
Requires preparation, and removal of tooth tissue to accomodate on the surrounding (abutment) tooth.
Not as strong for long spans of multiple teeth.
More expensive than dentures.
Resin-bonded Bridges or Maryland Bridges
Resin bonded bridges are bridges that can be placed with attachments to teeth that need little to no preparation with the drill.
These bridges instead of being held in place by "crown" like abutments

, are held in place by "wings" that are glued to the backs of the teeth on either side.

These bridges require are not as strong as conventional bridges under high load.
| Bridge | Price |
| --- | --- |
| Resin Bonded (Sticky) Bridge | £350 per unit. |
| Porcelain Bonded Bridge | £400 per unit. |
Other prosthetic options to consider...